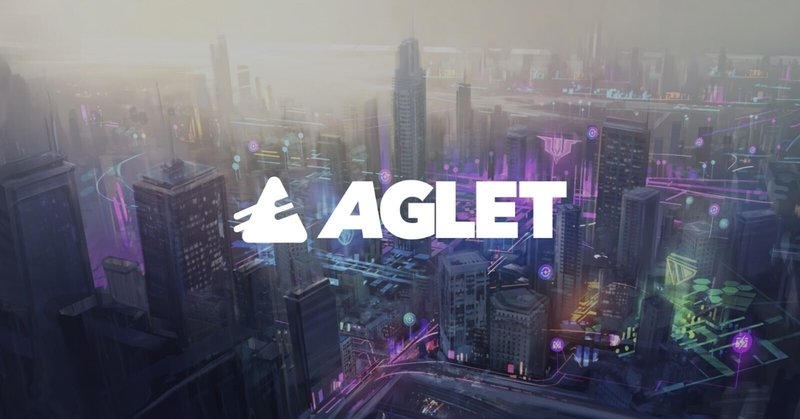 Aglet, metaverse commerce platform, crosses 3.5m players on back of Japan growth!
Previously, Fashion Tech News has reported on the update of ONLIFE's Aglet a sneaker app, since 2020, "AGLET' to create a metaverse commerce experience" and "Sneakerheads interacting in both metaverse and real space? AGLET." Additionally last month, the number of users from Japan surged and at one point the app was ranked number one in downloads in the Japanese Apple Store. In addition, Aglet launched a physical sneaker into the world: the Aglet One sold out in seconds. We interviewed Ryan Mullins, CEO of ONLIFE, about the future roadmap and this rapid increase in users. Strap in!
Integrate NFTs into Daily Life
It seems that the user base expanded rapidly, particularly on Twitter at the beginning of May, how do you see this situation?
I think what happened was pretty wild - we had 250,000 more players in the first two days after we announced NFTs, and during that time we were ranked #1 in the game app rankings in the Japanese App Store. We've reached 3.5m active players of Aglet and, with our push into localization and the Japanese language, we hope to reach more people with our experience. We'd focused on Japan since the launch of the app but never really broke through until we announced NFTs. We've been waiting to launch our NFTs since the beginning. Actually, in 2018, before we raised money or launched the app, the company was called Sneakercrypt. So, the recent growth in the market, even if there's a downturn, is crazy. Just the way it's reached mainstream culture, thanks to the pandemic and artists and musicians adopting the technology to reach their fans.
One of the core themes of our company is that "gaming is eating the world." Of course, gaming is very popular and people are playing and spending tons of money in-game. But, that's not really what we're getting at. Instead, we mean something much, much grander. We think that gaming mechanics and design is now baked into the fabric of culture. Culture is now structured and designed like a game. Sneakers, streetwear, bags, figurines, vinyl, wines, NFTs, art, trading cards, in-game assets, etc. Our insight was that, when you're engaged in commerce with a brand, you're playing their game. You're competing against other consumers to buy a scarce asset. Then the meta-game starts when you arbitrage that asset on various secondary marketplaces. So, it's the financialization and speculation of culture, for better or worse. At first, this can be very exciting; but, after a while, it becomes merely transactional and exceedingly boring. Before we launched NFTs, we saw the same structure in the digital asset marketplace and didn't want to repeat it. So, we thought it's better to go old school and build a game that hopefully is sufficiently fun and retains players over time. That means, we focused FIRST on building a game and utility, learning what our players like, and then making the transition into including web3 capabilities into our platform. And as people are moving around in the world, you start to find out how you can integrate into NFTs in everyday life instead of just getting an NFT online and selling. And so what we want it to do is really incorporate the game into how you move around the world. And that's why we think what we're doing is a much bigger opportunity. I believe there's an opportunity for all kinds of commerce, not just digital sneakers or apparel for the avatar. Still, the ability to use the map to drop NFTs at locations, whether that's retail locations, whether that's concert events, whether that's institutions, so you really are putting this kind of new digital layer on top of reality to enable all new types of commerce and commercial experiences to happen. We've got some really dope partnerships lined up for the rest of the year to do exactly this. So, stay tuned!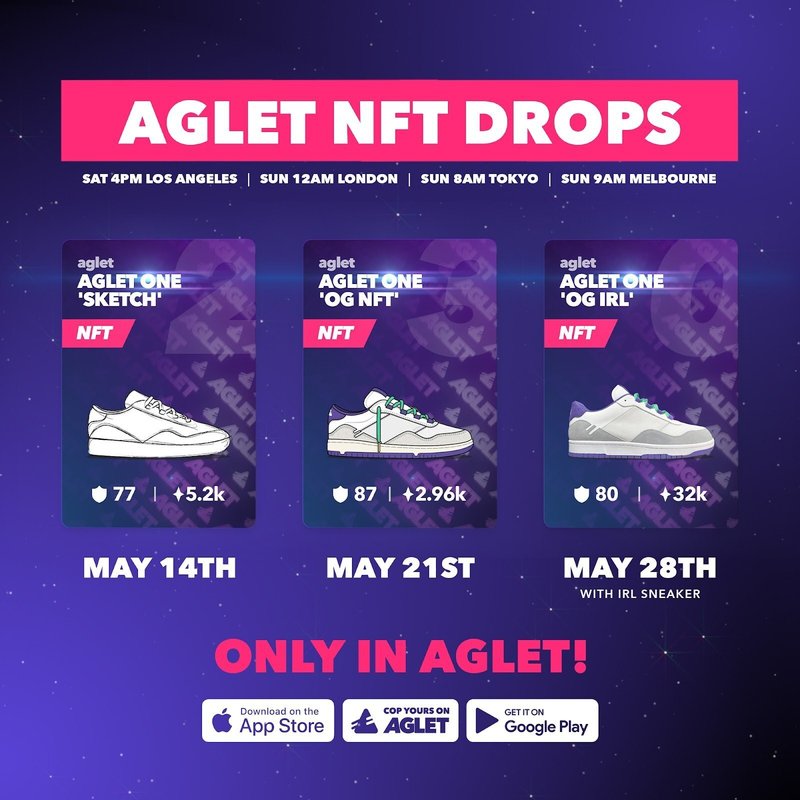 What updates have been made to the app since the last interview?
There have been several changes in the features. Now we have the avatars moved to the front of the app. So when you open the app, you see the map; it used to be when you opened the app, you just saw the sneaker. But now, our focus is on the user moving around. So that when you open the app, you will know 'Oh, I'm here," as your location is displayed, and you can look at your surroundings, such as the train station.
And in the next release, you'll be able to follow other people in the game. Also, you'll be able to see them on the map. For instance, I could click on your avatar on the map if you're close by, which will pull up your profile. And I'll be able to see your avatar, score, and shelf, and even I can chat and say, "Hey, I want to buy those Aglet One OGs off of you!". So now, many social features have really started to open up by putting the avatar on the map, right when you open it up.
The second significant change is that since we moved the map to the front of the game, we have also updated the location algorithms in the background. When you hit "scan", you're generating 6 to 10 new locations around you. So instead of those locations or the stations being the same every day, they're now dynamic and changing every day. This was a huge update. Since we have limited resources, this development took a lot of time to work out but eventually, that's been a big help with a lot of our growth. For instance, users are often staying in the app longer now, and people are walking more.
And then another prominent feature is that we've started working with creators and designers. We've done many design contests and creator months where we've focused only on up-and-coming designers. To extend that further, we will do another partnership where we will work with three or four independent designers. They will design a digital collab version of our sneaker, and then they will also release the NFTs in the game, and then we will make the actual physical sneaker with those people. The third update is the inclusion of physical products, the company name "onlife" comes to life, an idea of online and offline fusing together. This also means that we deal with both digital collections and physical products. So far, we have sold physical products in our sneaker shop. And we think that with avatars and physical apparel, we will be able to create a whole new experience that combines commerce and gaming, like Amazon's collaboration with Niantic Labs.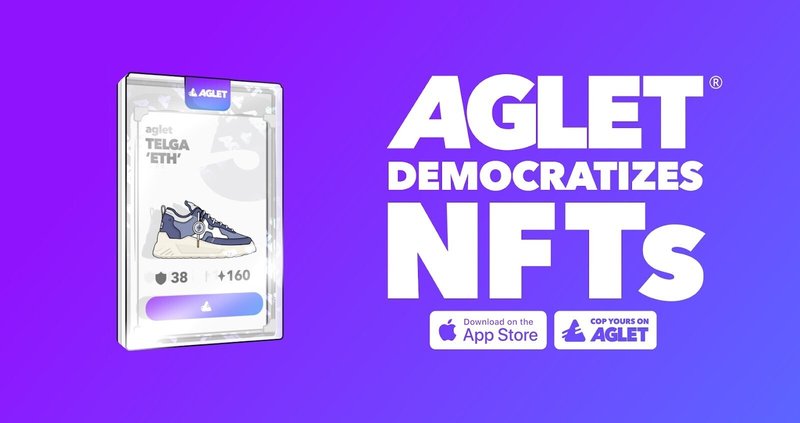 Backpack filled with your collections
Please tell me more about NFT!
As I said above, Aglet is about playing culture. A big part of culture is collection: memories, experiences, assets, and friends. These are all part of building your world. We store these collections at home, in our brains, and today we store most of our value in our phones. So, instead of a crypto wallet, we're going with a backpack. Something inherently more social. So, as you move around in the world playing Aglet there will be tons of different collectible moments. Spatial NFTs being one of them.
We're currently releasing NFTs a couple times a month for our players. Demand is very high. We've done about 12 drops and they all sell out instantly!
So the main thing here is movement around the world, collecting these assets as you move around in your culture, and storing them in your backpack. And then, later in the year, we will launch an "Aglet gallery space." That is, you can pull out certain assets from your backpack and put them in, and can even host live streaming events in your space, where people can look at either new assets you've created or everything that you have in your backpack or some things in your wallet wanting to sell or show off.
Right now, there's Aglet that you earn as you walk around and the currency Gold Aglet that you purchase. For example, there is only one $10,000 sneaker in our game, but this buyer is buying it in dollars. This means that a credit card is connected to the device and the purchase is made in Fiat currency. Thus, in the current game, there are two types of coins: coins that can be earned in the game like any other normal game, and in-app purchases.
On top of that, we will release an 'Aglet token' later this year. This will be a utility token that players earn for their engagement and accomplishments in the game. But, it will also be used for purchases in-game. You will still be able to buy assets in the game with Fiat currency, but the tokens will be Multichain, such as Bitcoin, ETH and Solana, and will support a number of payment methods. We want to make it an open payment system, so that when you want to buy something, you can pay with PayPal, pay by bank direct debit, or pay by credit card, and you are not restricted by currency or payment method.
How will the commercial layer be connected to the NFT?
Another aspect of the future for us is landplay and land ownership for people and businesses and that enables the ability to buy land on a map purchased with the Aglet Token. Let's say we work with Coachella, for example, a major concert in the US. Coachella can buy the land on which the concert actually happens in real life. The fans of the show also could then also have partial ownership of the land. The idea is that these are not ownership rights in a virtual world like Decentraland or sandbox but represent the real world. For example, you and a friend go to Coachella to see famous artists like Post Malone or Kendrick Lamar. Then the artists and the event can release NFT assets in the game, meaning that you can add a different layer of commerce on top of the real-life experience.
Furthermore, if you own land in Coachella in the game and there is a lot of economic activity in the real world, your ownership and value of that land will increase. This new way for fans and businesses to interact and connect is exciting. And maybe this is a way to form a new kind of DAO or a new form of the stock market - maybe it's the big institutions that own Apple shares, but on the other hand, it could also be owned by ordinary private investors. So it would be fascinating to see if we start to offer this land feature in the game, so that people can raise money for the real world on that land.
The future roadmap is to reconnect people with the culture of the cities they actually live in. Very different from the metaverse as viewed by the gaming industry, where we all hang out in virtual worlds. Our idea is: how can we create this new product that gets you out in the world exploring these really amazing cities that we live in. Using a map allows us to put this new commercial layer on top of it. So users can move around the world, collect different things and put them in their backpacks. They can then share and show off what they have collected with others, or show it off as a social gallery. The plot of the game is about land ownership and making the world an information browser. If we can do that, I think we can create a multi-faceted marketplace through our platform - just like Amazon started with books and became the 'everthing store', we want to start with trainers.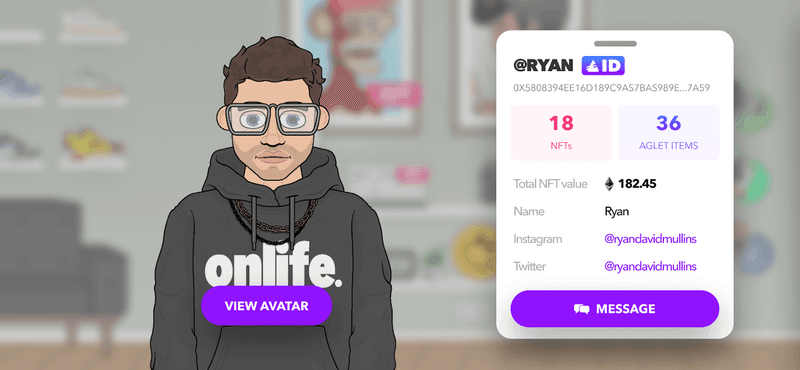 Towards future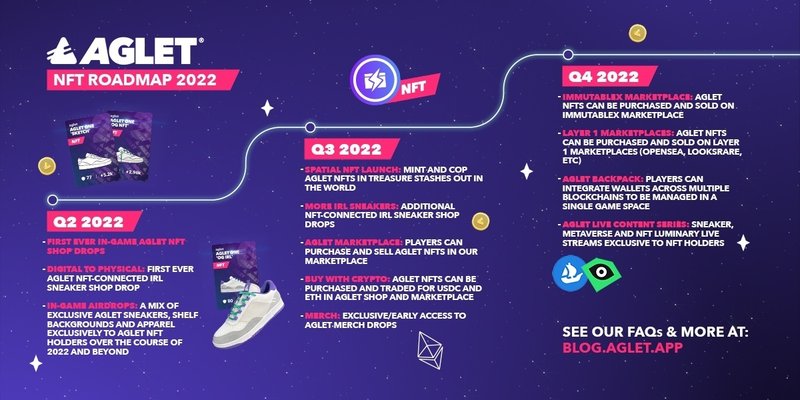 Please tell us about your visions and roadmap!
I detailed much of it already but, to recap, our product is focused on three main categories: world, identity, and social. So, our vision and roadmap will develop and introduce features that amplify these categories. Enhanced map play with quests and challenges that allow you to play your favorite brands and collect sneakers, apparel, and accessories. The map should open the city you're in to help you explore and discover. Identity is your backpack and storage of value and experiences that will form the foundation of our social. Social is how we connect to our friends in the game: trade, buy, sell and flex to your friends what you've collected and done. Seeing them on the map and challenging them to quests.
So, the Aglet vision is onlife. We don't live on or offline anymore. We're just onlife. Existing at the convergence of these two dimensions. We believe that reality is already a first-person MMO. And, using location-based, map play we can put a digital gameboard on top of reality to enable a new kind of real metaverse for commerce, culture, and creation.
We're just getting started!